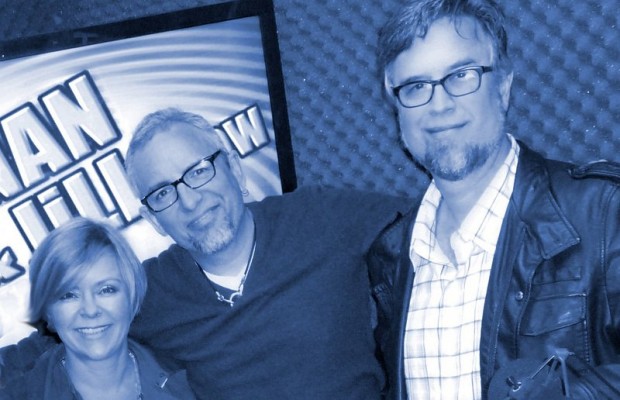 ---
Podcast: Play in new window | Download (Duration: 53:49 — 49.4MB)
---
"Good Day Sunshine" (by the perfect Beatles) rings us in this Monday morning. A little later, the creators of Phineas and Ferb, Swampy Marsh and Dan Povenmire, are in studio to talk about the meaning of life… or at least animated life.
We are recovering from our Mangrate Grill Off In catch up and we talk about why size matters… at least with sub sandwiches. Then we take a trip down memory lane and remember some of our favorite (?) discontinued fast food menu items. Onion McNuggets, anybody? And curiously, Intern Tyler knows more than anyone else about Jason Alexander commercial work.
What's News? Wes Welker's Wife got some 'splaining to do, Papa John's hero in Montana gives burglar a pizza… and we waste no time in getting our guests on the air to weigh in on these topics. Jeff "Swampy" Marsh and Dan Povenmire, the creators of Phineas and Ferb jump in. We tell the story about Swampy's tagging our wall and Dan promises to make a better drawing when he leaves. We cover where they met, how Phineas and Ferb came to be, and how they both got into animation in the first place. Plus, Swampy tells us why keeping old suits in his closet is a good life motivator.
We announce our big plans to join Swampy and Dan in the quest for the 24 Hours Of Lemons driving competition title. Although it seems that this may be the first time Dan is hearing about it. Jill and Dan are in for about 20 minutes each of drive time, which leaves Brian and Swampy with 23 hours and 20 minutes to split between them. Shout out to any of our dedicated listeners out there who know of a good scrap car we can get for $500 or less.
Make sure and check out the new episodes of Phineas and Ferb on the Disney Channel. February 1st is the 50's car themed "My Sweet Ride" and on Feb. 15, check out "Der Kinderlumper" featuring Los Angeles Newsman Gordon Tokumatsu.
We play the GAME with Dave from Menephie, CA and Daniella from Valencia, CA.
Follow The Brian and Jill Show on Twitter@BrianandJill1
Follow Brian on Twitter @BrianWPhelps
Follow Jill on Twitter @WhelanJill
---
Show Links
THEME SONG : THE BEATLES – GOOD DAY SUNSHINE

FOR ALL THINGS SWAMPY & DAN:
CHECK OUT THE PHINEAS & FERB WEBSITE
LIKE THEM ON FACEBOOK –
Jeff 'Swampy' Marsh on Facebook
FOLLOW THEM ON TWITTER –
Swampy on Twitter
Dan on Twitter
---
AMAZON LINKS
---
IMAGE GALLERY
---
VIDEO
Good Day Sunshine

Jason Alexander commercial

Animation Rap