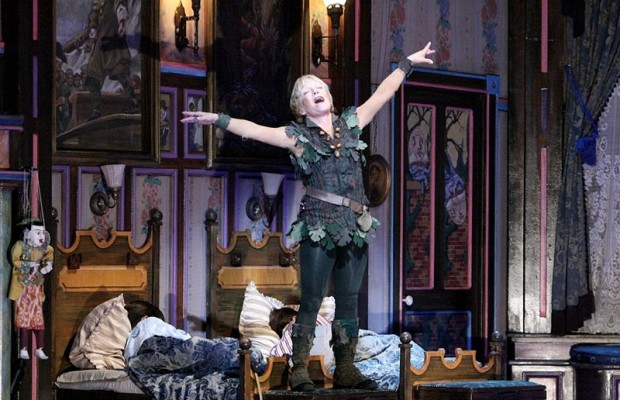 ---
Podcast: Play in new window | Download (Duration: 1:30:28 — 124.2MB)
---
Hey all you small town girls and city boys, "Don't Stop Believin'"! We sing along to Journey's awesome ballad in honor of Steve Perry's birthday. Later on today, we are lucky to have Cathy Rigby phoning in to talk about her starring role in Peter Pan, playing in LA at the Pantages theater.
We are celebrating football festivities early with our upcoming Mangrate Grill Off this week! Two lucky listeners will be in trying to impress Jill with their most creative use of the Mangrate and Brian's friends Gary and Todd will be joining in the judging as well. We all can't wait! The listener who wins will receive a Weber BBQ, a set of Mangrates and some CASH! Just in time for the Super Bowl (Bro).
We then give some props to our friends at GAMEFLY.COM and find out how they can help us lose weight! We hear about Brian's time as a"Flying Peckerhead" (Thanks Renee)! And Jill tells us that Grant's best friend is in town, and how she still is making his fashion choices for him. Speaking of fashion choices, we go over the clothes women think are sexy but actually men hate.
We listen to the amazing HEART sisters as they play "Stairway to Heaven" for band members of Led Zeppelin at the Kennedy Center. Great news! This song will be available on iTunes and money earned will go to benefit the Kennedy Center.
We're all looking forward to this years Superbro! (You know because the brothers….) Good thing we have Todd Donoho on the show today. He tells us which Harbaugh is the better coach and why this Probowl may be the last one ever!
What's News? Lance books moved to the fiction section, video games go same sex, and who wants a Caveman baby? Then we get into the Octomom porn award win, Guinea Pig guys can't take labor pains and Lindsay Lohan can't dance. Well if Lindsay won't do it, Jill wants a shot! If you think Jill should be joining the Dancing with The Stars cast this year tell the folks at ABC to put her on already! We then discuss the true meaning of Chickens coming home to roost.
Cathy Rigby is on the show! We find out what it's like to play a ten year old every night in Peter Pan! And the most touching moment she's ever had while on stage. You can see her making magic, along with the rest of the Peter Pan cast Jan. 15-27 in Los Angeles at the Pantages Theater and Jan. 30-Feb. 10 at the Cadillac Palace in Chicago. Ticket information below!
We play the game with Alex from LA and Claire from Simi Valley. Did we mention that Jill's wearing a sexy bra?
And happy 70th birthday to Kathee's mom Patricia!
---
Show Links
THEME SONG : JOURNEY – DON'T STOP BELIEVIN'

ALL THINGS CATHY RIGBY, PETER PAN AND THE PANTAGES:
FOR TICKETS TO "CATHY RIGBY IS PETER PAN –
www.BroadwayLA.org or www.Ticketmaster.com
or by phone at 1-800-982-2787.
CATHY'S AWESOME CHARITIES:
DISCOVERY ARTS -(www.discoveryarts.com)
MCCOY RIGBY ARTS-(www.mccoyrigbyarts.com).
FOLLOW THE PANTAGES ON TWITTER @Pantages
LIKE THE PANTAGES ON FACEBOOK : www.facebook.com/PantagesTheatre
CHECK OUT THIER YOUTUBE CHANNEL – PantagesTheatre
---
AMAZON LINKS
---
IMAGE GALLERY
---
VIDEO
JOURNEY – DON'T STOP BELIEVIN'

Guinea Pig Guys Pregnancy