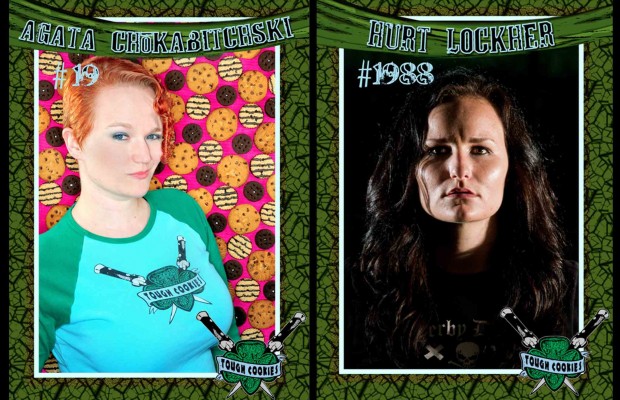 ---
Podcast: Play in new window | Download (Duration: 1:05:49 — 60.4MB)
---
We've all been a little hot for teacher every now and then. That's why we chose Van Halen's single to start the day off on The Brian and Jill show! Brian talks about his doctors appointment being much less painful than the government shutdown while Jill remembers her baby cheeks.
Then, the showdown of the century begins. Tyler and Parker agree to duke it out in a foot race that will define a generation. There is much banter between the formerly athletic Tyler and the currently un-athletic Parker. The winner will be revealed in the next episode, so make sure to listen live!
We were lucky enough to have a couple guests on the show! Listener Gillian came by for a visit bringing some British charm. Then, we welcome Agata Choka-Bitchski and Hurt LockHer from the Tough Cookies roller derby team! They talk about the strength and stamina it takes to be a true roller girl. We're all going to see them rock the rink on November 9th and you should too!
Finally, THE GAME! Gloria and Gary test their knowledge for the $1025 prize.
FOR ALL THINGS DERBY DOLLS:
FOLLOW THEM ON TWITTER – @laderbydolls
CHECK OUT THEIR WEBSITE DerbyDolls.com
LIKE THEM ON FACEBOOK – LA DERBY DOLLS
KEEP IN TOUCH WITH US:
CALL INTO THE SHOW — 818-861-7493
Follow The Show on Twitter @BrianandJill1
Follow Brian on Twitter @BrianWPhelps
Follow Jill on Twitter @WhelanJill
---
SHOW LINKS
HOT FOR TEACHER- VAN HALEN

---
AMAZON LINKS
---
IMAGE GALLERY
VIDEOS
KANSAS CITY BOMBER
DERBY DOLLS – TOUGH COOKIES IN ACTION