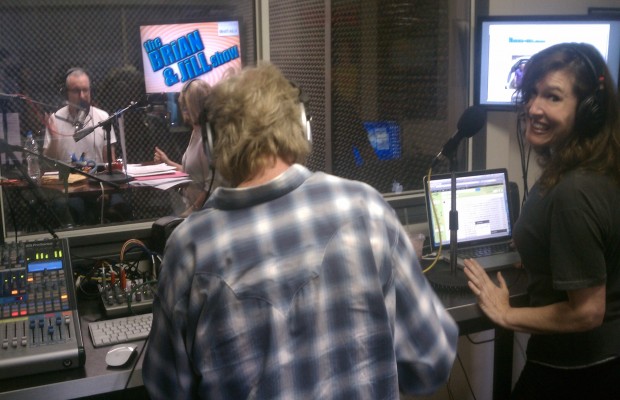 ---
Podcast: Play in new window | Download (Duration: 1:01:17 — 56.2MB)
---
We have a surprise In store for you this episode… Swampy covers for Brian while he goes to 7/11 to get hazelnut coffee. Bad Company's "Feel Like Makin' Love" puts us in the mood for some funny. The gang talks about their old sports days and gives a little advice about eating Fruit Loops before jumping in the pool.
We read a listener e-mail from Corey who asks a question about helping others before helping yourself. Brian and Jill give us a few tips on food replacements that can help shed the pounds without really noticing–spoiler: it involves lots of lettuce. Jill delves deep into the chasms of Miley Cyrus' psyche and draws a surprising conclusion about her twerk-filled public spectacle. Then, Swampy and Brian talk male fashion and why they don't think men in their 40's lose their cool factor.
The gang plays CNN with "What's News?" We find out that you shouldn't hold your phone too closely to your mouth…you may be surprised at what's on it. Finally, THE GAME! Max and John go up against the gang for a shot at the $1017 prize. Will they win? Listen to find out!  
Check out Jill's favorite product NeriumAD for younger, more vibrant skin!
KEEP IN TOUCH WITH US:
CALL INTO THE SHOW — 818-861-7493
Follow The Show on Twitter @BrianandJill1
Follow Brian on Twitter @BrianWPhelps
Follow Jill on Twitter @WhelanJill
---
SHOW LINKS
THEME SONG: BAD COMPANY- FEEL LIKE MAKIN' LOVE
---
AMAZON LINKS
---
IMAGE GALLERY