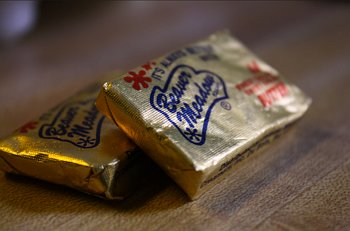 ---
Podcast: Play in new window | Download (Duration: 1:18:54 — 72.4MB)
---
In honor of Tyler being alive, today's theme song is Freddies Dead by Curtis Mayfield. A bit later, Sal Cirrincione calls in with the Rock Report, but first we talk about Stamps.com and suggest some more funny taglines for them.  Stamps.com: Stop Licking & Start Sticking, or Stamps.com: Great for Agouraphobics! If you have a funny one to share with us Tweet it to us with the hashtag #BJSTAMPS.
Brian and Jill had a very fun lunch yesterday and the great local eatery, California Canteen.  Thank goodness no one caught Brian in the act of his famous butter pat caper. Video to follow.
Our dear friend Sal Cirrincione calls in with his Rock Report featuring news on Grateful Dead's Bob Weir, Ringo Starr's Grammy play, Kiss' Rock & Brew venture and much more.
Shout out to listener Sean Mullins for sending Brian and Jill the super cool phone speakers! Wow, so nice of you man!  Then we check out the super awkward Interview turned good between Mila Kunis and a first time, starstruck British interviewer. She was amazing and earns lots of "Lad-Points" for being so kind to this young man on his first time out.  Makes us love her more… and she has a great rack. Reminds us of the scene in Notting Hill… so we play the clip between Hugh Grant and Julia Roberts.   This leads to B&J sharing super awkward interviews they have been a part of.  Yeesh!
Straight into playing the GAME with Loran from Burbank and Tom from Vista.
Follow The Show on Twitter @BrianandJill1
Follow Brian on Twitter @BrianWPhelps
Follow Jill on Twitter @WhelanJill
---
Show Links
THEME SONG : FREDDIES DEAD – CURTIS MAYFIELD

---
AMAZON LINKS
---
IMAGE GALLERY
---
VIDEO
MILA KUNIS BEST INTERVIEW EVER!

FREDDIES DEAD – CURTIS MAYFIELD

NOTTING HILL