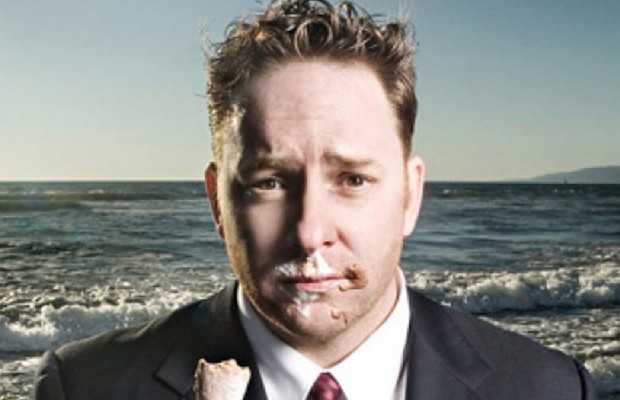 ---
Podcast: Play in new window | Download (Duration: 59:07 — 54.2MB)
---
It's only the "Beginnings" … of the show! Theme song today by the super-band Chicago. We all love the song and Brian tells us how he actually ended up playing a set with Chicago in Vegas! A little later we have comic/master impressionist Jeff Richards coming in. His character "Drunk Girl" on Saturday Night Live is hilarious.
Brian has some complaints about the distribution of work in the studio between genders. We talk about cussing in front of children and should it be legal. What about when you're in the process of birthing them? By the way, Donny turned the birth of his children with Kathee into 3-camera shoots. It's okay though, because his crafty lighting techniques and camera angles made it look like a miraculous event. Brian still doesn't want to see the video.
How much would you pay someone to stand in line for you? Or to get your doctor's cell phone number? Would you sell your blood? People buy/sell the darndest things!
What's News? Al Pacino cast to play Penn State Coach Joe Paterno in new movie.
Scorned Man gets Pee-Pee Payback. Boobs, a Deadly Weapon? Lindsay Lohan Indecent Proposals, Britney's malfunction, and Ketchup Bottle Mystery Solved.
Impressionist extraordinaire Jeff Richards is in the studio sharing his myriad of impressions like Kevin Spacey, Gary Busey, Louie Anderson, Gene Wilder as Willy Wonka and the most amazing Dustin Hoffman you have ever heard! He tells us about his SNL audition and his upcoming
And Jeff sticks around to play THE GAME with our listeners Glenn and Cindy.
Follow The Brian and Jill Show on Twitter @BrianandJill1
Follow Brian on Twitter @BrianWPhelps
Follow Jill on Twitter @WhelanJill
---
Show Links
Chicago "Beginnings"

---
AMAZON LINKS
---
IMAGE GALLERY
---
VIDEO
JEFF RICHARDS DRUNK GIRL –

BRITNEY SPEARS COSTUME MALFUNCTION –

SPIRIT OF SAINT LOUIS
Chicago – Beginnings