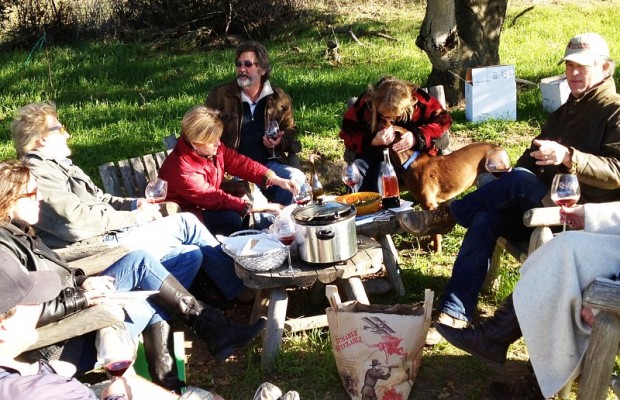 ---
Podcast: Play in new window | Download (Duration: 59:02 — 54.2MB)
---
Marvin Gaye and I Heard it Through The Grapevine that we have ANOTHER REALLY BIG SHOW TODAY! Part two of our wine tasting trip to Ampelos Vineyard with Kurt Russell! The rest of Brian and Jill's amazing day with Kurt, his sister Jami and Vineyard owners, Peter & Rebecca Work plays out here.
Now we sit under an oak tree, atop a beautiful hill with views of the valleys and the vineyards. Rebecca has made an amazing lunch for us and we open some more wine and really get into some great conversations about life, love and family. Kurt tells us about his challenging experience making the great film Tombstone… and why he feels that family is the MOST important thing to have and appreciate in your life.
We end the perfect day with lots of laughter, good food, great wine and wonderful friendships.
Follow The Brian and Jill Show on Twitter @BrianandJill1
Follow Brian on Twitter @BrianWPhelps
Follow Jill on Twitter @WhelanJill
---
Show Links
THEME SONG : MARVIN GAYE – HEARD IT THROUGH THE GRAPEVINE

AMPELOS CELLARS – www.ampeloscellars.com
GOGI WINES – http://www.gogiwines.net/
---
AMAZON LINKS
---
IMAGE GALLERY
---
VIDEO
GoGi Wines – 2010 "Goldie" from Stardust Frames Productions on Vimeo.