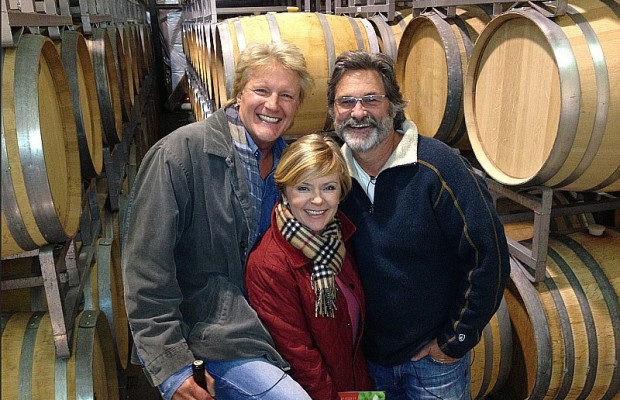 ---
Podcast: Play in new window | Download (Duration: 58:00 — 53.2MB)
---
REALLY BIG SHOW TODAY! Our first field trip and it's a doozy… Wine tasting with Kurt Russell! The team heads up to Ampelos Cellars in Santa Barbara's beautiful wine country. Wine makers Peter & Rebecca Work host a wonderful day for us full of wine, food and big, big laughs!
We start off at the Winery tasting and hearing the story of how Kurt met the Works and how they got into the wine business. Kurt tells us about his Gogi wine label and his quest for the perfect Pinot Noir. Then we get to meet Kurt's awesome sister Jami Way, who runs his wine business and we proceed to drink a lot of really good wine.
Brian and Jill each get to blend their own custom bottles of vino, and though BJ BLEND was in the running, we ended up with Brian's Song and Jill's slutty little number ESCORT$. Lot's of life lessons are discussed, we talk a little about the amazing Goldie Hawn and how she inspired Kurt's Chardonnay and we find out why we'd all rather swallow than spit… wine.
We have to move the party up to the vineyard, so we play a completely out of control round of THE GAME with Kurt, Jamie, Rebecca and Peter!
Follow The Brian and Jill Show on Twitter @BrianandJill1
Follow Brian on Twitter @BrianWPhelps
Follow Jill on Twitter @WhelanJill
---
Show Links
THEME SONG : NEIL DIAMOND – RED, RED WINE

AMPELOS CELLARS – www.ampeloscellars.com
GOGI WINES – http://www.gogiwines.net/
---
AMAZON LINKS
---
IMAGE GALLERY
---
VIDEO
GoGi Wines – 2010 "Goldie" from Stardust Frames Productions on Vimeo.