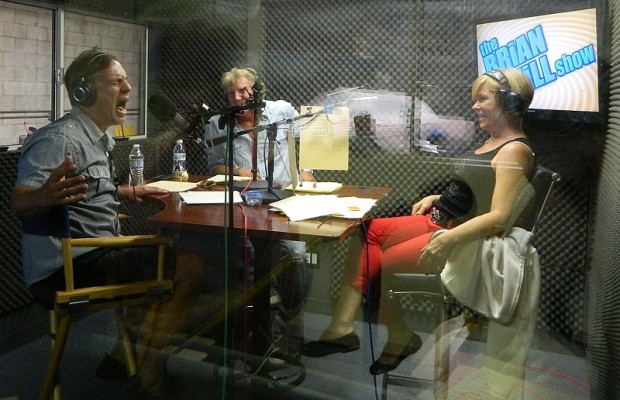 ---
Podcast: Play in new window | Download (Duration: 1:12:56 — 66.9MB)
---
We start the show today with a visit from a very smart superfan that brings us a list of some hybrid animals to add to the "Giraffadite" that Brian discussed yesterday. After that Jill shares a list of the top toys in history… get ready for some flashbacks.
New feature… Guilty Pleasures! For the maiden voyage of this feature we're confessing our favorite guilty pleasure movies. Jill shares her "girly porn" pic and then we find out why Brian might have grown a vagina with his number one pick.
The awesome comedian Craig Shoemaker joins us in studio for a great interview and he and Jill do a LOT of singing. He gives us all some great advice about how laughter can really help heal everything from depression to cancer… then we even get a short story about peeing in front of a live audience.
Such a full show, that we had to skip What's News… just means more for tomorrow!
Follow Brian on Twitter @BrianWPhelps
Follow Jill on Twitter @WhelanJill
---
Show Links
For more information on Craig Shoemaker check out his podcast, Laugh It Off, go to his website www.craigshoemaker.com and follow Craig on Twitter @thelovemaster

BRIAN'S #1 : VOICES


BRIAN'S #2 : ROADHOUSE


JILL'S : SUMMER LOVERS


Want some more of ME AND JULIO DOWN BY THE SCHOOLYARD?
Get The Essential Paul Simon :
---
HOMEWORK : MAKE YOUR OWN MUG SHOT!
If you don't have your own fantastic mug shot like Nick Nolte, Mel Gibson, Gary Busey or any of Lindsay Lohan's… don't worry! Just create your own along with the "reason for your arrest". This should be fun.
Send Entries to our Facebook page and or via email to BJShow@BrianAndJillShow.com.
---
IMAGE GALLERY
---
Video
GI JOE COMMERCIAL