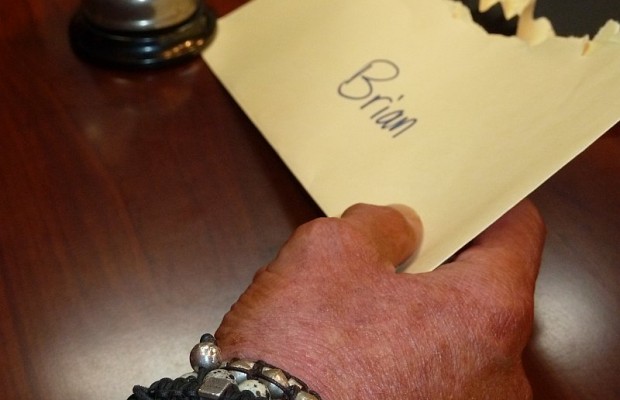 ---
Podcast: Play in new window | Download (Duration: 1:00:11 — 55.2MB)
---
B&J are talking about things that get better with age, like blue jeans, pizza, t-shirts, cowboy boots, etc… and surprisingly, women are NOT on that list. Then the gang shares their favorite TV singing group.
Brian has a clip of one of his favorite comics, Brian Regan talking about his very first text message… hysterical.  Then Jill has a rare clip of Neil Diamond and Barbra Streisand playing the old game show $25,000 Pyramid.
After Jill hits What's News, Brian shares his recently, officially confirmed  "Kind of Psychic" abilities. It's amazing and spooky, and just a little annoying.  Next we have some listener phone calls and we play a little No Apparent Reason!
A new ongoing segment, "So, That Happened" is introduced where we share photos of odd events that happened and we ask the listeners to submit  their own "So That Happened" entries to our Facebook page and or via email to BJShow@BrianAndJillShow.com.
Follow Brian on Twitter @BrianWPhelps
Follow Jill on Twitter  @WhelanJill
---
HOMEWORK : THEME SONG OF THE WEEK!
Great submissions so far!
We'll be changing the show's theme music each week, and we're taking your suggestions. Tell us your pick for next week's theme song (or a specific section of a song) and we'll announce the winner on Monday.  Leave here on the message boards, Email to BJShow@BrianAndJillShow.com,  Tweet them to @BrianAndJill1 or comment on the Facebook post.
---
IMAGE GALLERY
---
VIDEO
BRIAN REGAN – TEXTING FUN
BRITNEY SPEARS & DON PHILIP "AWKWARD" REUNION
FAVORITE TV BAND :
JILL – The Archies – "Sugar-Sugar"
KELLY – The Brady Bunch – "Sunshine Day"
KATHEE – Josie & The Pussycats – Theme Song
DONNY – The Banana Splits – Theme Song
BRIAN – The Partridge Family